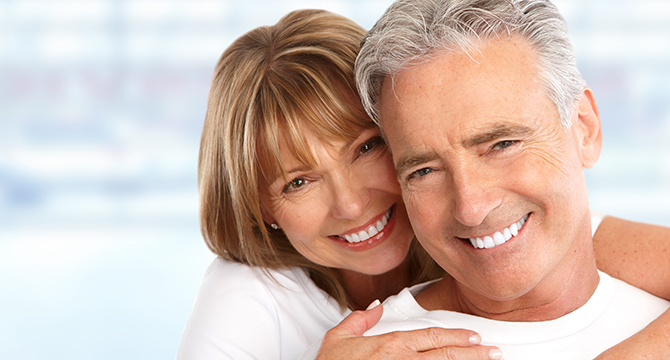 Are you looking for comfortable dentures provided by a caring and compassionate team of experts? At McDonough Center for Family Dentistry, we offer high-quality cosmetic dentures that will exceed all your aesthetic expectations and help you live a healthier life, full of the healthy foods you crave. We take the time and effort necessary to ensure a perfect fit for each patient, so you can stop worrying about your smile and simply enjoy life – one bite at a time.
At our practice in McDonough, GA, we offer the very best in restorative dentistry, including full cosmetic dentures that give you the perfect smile, partial dentures that help replace missing teeth and state-of-the-art dental implants. Come visit us – we'll discuss which of our many treatment options will best complete your smile and help you regain your confidence.
To learn more about our dentures, call us at (678) 432-0209 or schedule an appointment online.
Cosmetic Dentures at McDonough Center for Family Dentistry
Cosmetic dentures can change your life in a great way, but if they don't fit properly, they may feel like more trouble than they're worth. At McDonough Center for Family Dentistry, we want to give you dentures that not only feel comfortable and look great, but also help you eat the foods you desire.
Of the approximately 20 million Americans who wear cosmetic dentures, at least half experience denture-related problems. Are you one of them? Take our quick questionnaire below to find out. If you answer "yes" to any of the following questions, visit the McDonough Center for Family Dentistry, where we offer natural-looking dentures that are guaranteed to fit perfectly.
Are your existing dentures causing you problems?
Are your dentures more than three years old?
Is it difficult to eat because you can't chew easily?
Do your dentures pop out or have trouble staying in place?
Are you unhappy with the fake-looking appearance of your cosmetic dentures?
Do you wish you had a more attractive smile?
Would you like the opportunity to design your own dentures, with the option to make each tooth longer, shorter, rounder or squarer?
Are your dentures worn or flat?
Do you wish your smile were whiter?
Do you lack the confidence to speak without worrying about your dentures?
When you think of your dentures, do you think "Can't live with them, can't live without them?"
Has it been more than a year since your last oral health and cancer screening?
We look forward to getting to know you and your family!